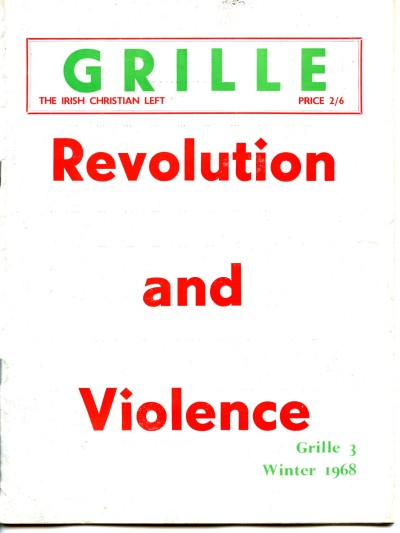 Please note:  The Irish Left Archive is provided as a non-commercial historical resource, open to all, and has reproduced this document as an accessible digital reference. Copyright remains with its original authors. If used on other sites, we would appreciate a link back and reference to The Irish Left Archive, in addition to the original creators. For re-publication, commercial, or other uses, please contact the original owners. If documents provided to The Irish Left Archive have been created for or added to other online archives, please inform us so sources can be credited.
Commentary From The Cedar Lounge Revolution
10th September 2014
This is an unusual addition to the Archive being a periodical edited by John Feeny and William Ledwich that positions itself overtly on the Christian Left. An outline of how the group around Grille – which explicitly regarded itself as Christian Socialist and came into direct conflict with conservative Catholics – came into being is given here on Come Here To Me  earlier this year, as well as where many of those involved went subsequently.
The cover headline is 'Revolution and Violence' and the contents addresses these subjects through a broad range of articles, including those on The Ecclesiology of Violence, the Theology of Violence, Black Power, The Educational Policy of the Irish Labour Party and Student Unrest.
There is too much content to adequately address here, but the Editorial is useful in offering an insight into the project.
When this Spring, those who were to become the editorial board of Grille, thought out the possibilities of an movement of the Christian left in Ireland, they had little or no idea about how it would succeed. Our plans were vague, and while we believed that hopes were well founded, we were continually frustrated by opposition from antagonistic christians and marxists and by despair from sympathisers who still thought that 'Ireland's not ready for it yet' or 'There are enough magazines already'.

Since the magazine started, however, we found that a magazine could not in itself do all that had to be done. The Encyclical on birth control divided the christian world into two shapely defined categories; there were conservatives and progressive on this issue i every denomination… In the same week Russia invaded Czechoslovakia, and here again the recognisable borders between capitalist and socialist countries were blurred.
It notes:
The two events demanded spontaneous action, and we thought of a pray-in in Westland Row Church. Again, when the Chicago police came to Dublin soon after their now famous neo-fascist brutality, more was clearly needed than a comment in Grille, ready by a maximum of two and a half thousand people three months later. So we held an all-day fast.

On both events we were heavily criticised, now even by those who had supported us; liberals mostly, who said, 'A magazine is alright, which people can read in a civilised way. But don't sit on th street; don't break the law; don't be a nuisance.'
And it continues:
But it was not possible to respect the limits they set us; we found in effect that they were preventing us being fully heard. A magazine was important bout outrageous disreputable action was need as well. It was the only way in which we could break through the set channels of critical thinking, and make the readers of the evening papers be challenged and upset. The liberal's answer of patient limited protest within conventional patterns was inadequate; were were compelled to extremism as is every christian, even at the risk of alienating our cautious middle class supporters.

We do not intend therefore to restrict our challenge to society and the church to the magazine, though this will, we hope remain the articulate focus of our work. But we can see that an active organisation will have to be formed, with branches throughout the country, including the north. Through it christian marxists can work together in every part of the country, meeting regularly, and acting spontaneously of the present cruel society, which it is Grille's purpose to opposite and to help change.
There is a notice of the Grille Study-School on 'Who Owns Ireland' – 'Papers on the ownership of capital in Ireland and discussions on the Socialist alternative – Industrial Democracy' which notes that speakers include 'Roy Johnston' and Dr. Noel Browne'.
On the back cover it advertises the "Grille Retreat for left-wing Christians" which has 'Readings from Connolly, Che and Mathew' as well as 'Lectures from Various Clerics' and 'Praying – Talking – Drinking etc'.
An illuminating document.
Just on a personal note, my father had this amongst his own documents. Unfortunately I never had an opportunity to discover how he acquired it.
---