The Public Sector and the Profit Makers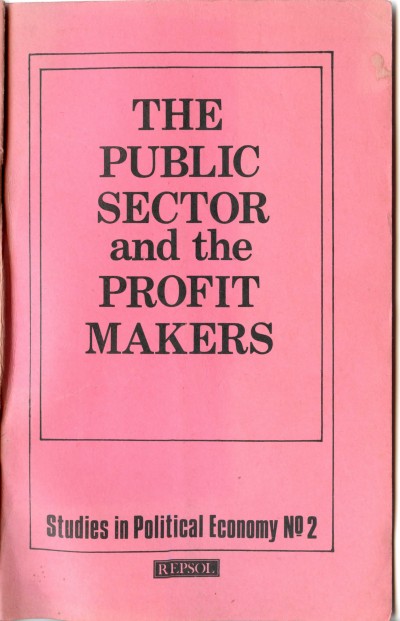 Please note:  The Irish Left Archive is provided as a non-commercial historical resource, open to all, and has reproduced this document as an accessible digital reference. Copyright remains with its original authors. If used on other sites, we would appreciate a link back and reference to The Irish Left Archive, in addition to the original creators. For re-publication, commercial, or other uses, please contact the original owners. If documents provided to The Irish Left Archive have been created for or added to other online archives, please inform us so sources can be credited.
Commentary From The Cedar Lounge Revolution
29th January 2018
Many thanks to Bobcat who forwarded this to the Archive.
This is a pivotal document as it outlines Sinn Féin – The Workers' Party policy in relation to the Public Sector. It is a precursor of the Irish Industrial Revolution which would be published some years later.
In the Foreword it notes that:
The purpose of this pamphlet is to show workers in the Public Sector why they must make common cause against the Private Sector.

The Public Sector must fight now or face a Pay Freeze that will never end. Questions of status and snobbery between different grades and categories must be abolished if Civil Service, State and Local Authority workers are not to join the ranks of the badly paid and exploited workers in the Private Sector.

Sinn Féin's strategy is to support the expansion of the State sector in three areas. The first is to expand existing State bodies in energy, oil, gas and mines. The second is the establishment of a State Construction Co. The third is the expansion of the State into food technology, processing and marketing.
And it concludes:
The basis of these demands is the nationalisation of the Banks.
In subsequent chapters it addresses The Public Sector, Reasons for the Public Sector and The Lack of a Public Sector Ideology.
More from Sinn Féin The Workers' Party
Sinn Féin The Workers' Party in the archive
---